10FT Outdoor UV Canopy Tent Frame+Top+Backwall Doubleside
SKU:

10OUCTFTBD

Shipping:

Calculated at Checkout
Description
Package type :
All banners 91" or longer on their shortest side will be folded and shipped in a square box.
All banners 90" and under on their shortest side will be rolled and shipped in standard corrugated boxes.
*Please round up your custom size to the nearest square foot.
You may then specify your exact print size in the Special Instruction box.
Our Canopies serve as an excellent way to provide shade for outdoor events. The graphic is printed on special water-resistant material and dries immediately during the even more special UV-cured printing process. Finished prints appear shiny and vivid and have added protection against natural elements.

Wind Speed Rating:
20-28 mph

This canopy is a standard 10 ft. x 10 ft. size with five different heights ranging from 10.5 ft. to 11.25 ft. tall. Telescopic legs snap into place. Each hex leg is 40 mm thick.

Features
• Hexagonal legs have a 40mm girth
• Aluminum construction weighs 43 lbs

This Package Includes
• Frame (Hex leg thickness: 1.8mm)
• Canopy Custom Print
• Black Nylon Bag
• Rope & Stakes

Canopy Material
• UV Fabric
• Water Resistant
• Vivid Colors
• High quality gloss finish

Graphic Finishing
• Pole pocket added to top of banner
• Hemmed around side and bottom edges
• Grommets added to vertical edge of banner

Backwalls (118.5" w x 88" h) - requires 1 rail per backwall. These can be single-sided or double-sided. They are fastened to the top of the canopy tent via velcro and they are secured at the bottom with a horizontal pole which travels the width of the backwall (inside a pole pocket) that attach to the legs of the canopy frame. Backwalls can be assembled onto any side of the canopy.


Turnaround
PRODUCTS TURNAROUND TIME
Banners
1 business day turnaround for most banner prints. Quantities of 6 banners or more, and custom jobs, are subject to 2 business day turnaround or longer depending on job. This turnaround applies to most banner displays also.
Tradeshow Displays
3 – 5 business day turnaround for most tradeshow displays and table throws. Expedited options available for some products. Please see individual product pages for more information.
Turnaround Starts When
Production starts when you order is placed. Our daily Cutoff time is 2pm PST. If you have requested an eproof(s) for your order(s) it must be approved before 2pm PST, Monday through Friday. Any and all proofs approved after 2pm PST will be processed the next business day.
QUANTITY
Quantity is limited to 5 banners.
For larger quantities & sizes, please call us to confirm the turnaround time.
SHIPPING
We ship via UPS
UPS SHIPPING METHOD & TRANSIT TIME
Ground

It would take 1 - 5 business days depending on the destination. (See UPS map for the reference)

There is no guarantee for ground shipping, it can be delayed 1 or 2 days by UPS.

Weather conditions could also cause your package to be delayed.
No refunds will be issued for products and shipping regarding any delays.
Please plan your order with 1-2 days in advance before your event date for these circumstances.
If you choose Ground service, UPS doesn't deliver on Saturday, Sunday, or Holidays.
You should pick the Next day + Saturday option if Saturday Delivery is required.
3 Day
3 Business Days
2nd Day
2 Business Days
Next Day
1 Business Day
Next Day + Saturday
1 Business Day + Saturday
SATURDAY DELIVERY
is only available for Next Day + Saturday Orders.
NEED BANNER SAME DAY?
Please call us and we can help in placing your order.
Shipping time estimates for UPS Ground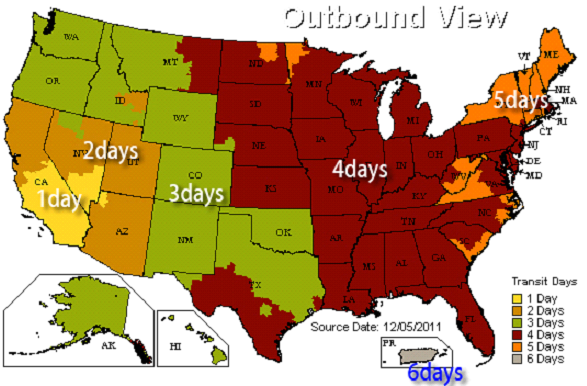 Template
Dimension
Graphic Size Canopy
121.5"W x 84.25"H
Graphic Size Backwall

118.5"W x 88"H

Download Template
Canopy Graphic

Backwall Graphic
Eproof
Eproof: A digital trial sheet that is made to be checked and corrected if needed, before sending final artwork to be printed. Proofing is an optional $5 service we provide in which we allow you check what your file will look like before being printed. Each customer is limited to 3 eproofs per file being proofed. Additional eproofs will accrue an additional $10 per proof.
The following will be checked upon eproof request:
| | |
| --- | --- |
| • File Size | • Graphic(s) |
| • Resolution | • Margins for finishing |
| • Font(s) | • Overall positioning |
The following is to be checked by the customer:
| | |
| --- | --- |
| • Spelling | • Quantity |
| • Date Stamps | • Material |
| • Overall Design | • Finishing |
| • Size | |
Once you approve the eproof(s) with OK to Print: you are stating that the eproof(s) are ready to print, and cannot be revised or reprinted without additional costs. Please be mindful that your turnaround (48 hour or 24 hour) does not start until we receive your approval for printing. BannerWorld.com is not responsible for any copy or design errors including: misspellings, date errors or color variation.
Cutoff time for approval for eproof(s) is 2:00 PM PST Monday through Friday. Failure to approve an eproof(s) on time will result in pushing production time back 1 business day, or rush fee's will be applied to your order. If expedited shipping is needed because of failure to approve a job on time, additional shipping fee's will be applied to your existing order.
View All
Close