Feather Flags
SKU:

FFB

Shipping:

Calculated at Checkout

Bulk Pricing:
Description
These are single-sided custom fabric prints that includes printed flag, pole hardware with spike base and black nylon carrying case for transport. These are perfect for all indoor and outdoor events. These are digitally printed onto our polyester Mesh Fabric banner material with a 4-color CMYK process. They printed with enough ink saturation to be seen from both sides. The non-printed side creates a ghosting effect of the printed side.
Each printed flag comes standard with pole hardware and a spike base. The perfect solution for mounting into soft ground like grass, gravel or any penetrable turf. You may also upgrade your hardware to an X-base so it becomes a free standing flag. The X-base adds an additional 13 lbs of weight.
* Water Bags are also available for additional weight for high wind areas. Can hold up to 3 gallons (approx. 24 lbs) of water.
SPECIFICATIONS
Pole Diameter: 875" (7/8")
Finishing
Black nylon webbing is added to the left side of the graphic to create a pocket for the pole hardware. A grommet is placed at the bottom of the nylon webbing to tie down the bungee chord provided. This allows the graphic to be fastened to the pole hardware at the base for retention.
Wind Speed Rating: 18-23 MPH
Life Expectancy
Indoor and Outdoor Flags will fade in sunlight. That is the nature of the polyester Mesh Fabric material in which these flags are printed from. Ultraviolet (UV) light, the same wavelength that causes sunburns, breaks down the fibers and colors of the flag. Constant UV exposure to the flag, from direct sunlight, will cause them to deteriorate. Over time, the colors of a flag exposed to sunlight will cause it to eventually fade over time, and need to be replaced. Colors such as yellows and magentas will fade the quickest.
Care and Instruction
High winds, especially accompanied by rain, will damage a flag. Take the flag down during high wind and storms whenever possible.
Wind in particular, causes the most damage to the flags. Ripping occurs frequently. Keep an eye on all sides of the flag as that is where most rips will happen. If the wear-and-tear appears, the worn part should be cut off and the flag should be re-hemmed.
Keep your flag away from petroleum and chemical products.
Never fold or store a flag when wet. Let the flag hang dry completely before you fold or store.
Templates
Download Template
Small
Medium
Large
Banner Size
23.6"W X 94.5"H
29.5"W X 149"H
32.5"W X 162.5"H
Total Height
9.84FT
15.75FT
16.4FT
Turnaround
TURNAROUND + SHIPPING = TOTAL LEAD TIME
Turnaround Time: Time it takes to create and install finishing to the print. Our cutoff time for order submissions is 3:00 PM PST. Please complete all order before the cutoff time.
TWO DAY Turnaround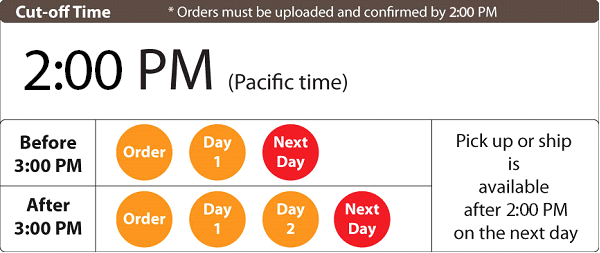 THREE DAY Turnaround
Shipping time estimates for UPS Ground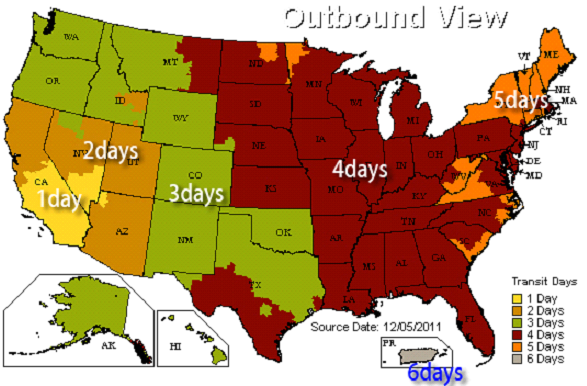 File Requirements
Please complete your order prior to uploading your artwork.
Artwork uploaded prior to having an order placed will be disregarded.
We can take the file in the following file formats:
Single Page PDF (Preferred)
JPG (Preferred)
PSD – Please flatten file
EPS – Please embed all images. Outline all fonts and strokes.
Ai – Please embed all images. Outline all fonts and strokes.
Don't Include Crop Marks or Bleed

Artwork at either full scale, 1/2 scale or 1/10 scale that is fine. Just make sure that when the file is being set up the DPI is compensated according to the scale.
Full Scale – 150 DPI
1/2 Scale – 300 DPI
1/10 Scale – 450 DPI
***Remove EVERYTHING from your file that you do not want printed on the final product - especially hidden layers and template guidelines.
- Flatten all Objects/Gradients/Swatches/Symbols/Special Effects/Transparencies
- Outline all text
- Flattened PDF (Single Page) or JPEG file types only
- Remove all crop marks/bleed otherwise they will be printed
- File must be the same exact size as what is ordered (exception is Gallery wrap Fold Edge and Products with templates)
- CMYK only (we do not print Pantone/5th/Spot/RGB)
- 150 dpi
- If using a template, the file uploaded to our site should match the exact "template size" (different than "graphic size").
- Do not scale template files, just flatten them and save at 150 dpi
- Files over 200" can be scaled
- Under 300 mb for upload
- Make sure all objects are embedded and flattened (we do not print Non-Native Art).
- If the file is made in Indesign, please flatten the file in Illustrator or Photoshop and export to a JPEG ONLY as we don't recommend using Indesign at our facility.
- If using Compound Paths to create transparencies/shapes, please completely rasterize or flatten them into the file or they may print incorrectly.
- We do not have specific measurements for Panel jobs. If you are printing in Panels, please make sure you are providing a minimum of 1" overlay in your files.

Please make sure that your file is in CMYK format for print production with no bleed. It is not required.

For upload assistance please contact us directly: 1 (866) 602-4777
Eproof
Eproof: A digital trial sheet that is made to be checked and corrected if needed, before sending final artwork to be printed. Proofing is an optional $20 service we provide in which we allow you check what your file will look like before being printed. Each customer is limited to 3 eproofs per file being proofed. Additional eproofs will accrue an additional $10 per proof.
The following will be checked upon eproof request:
| | |
| --- | --- |
| • File Size | • Graphic(s) |
| • Resolution | • Margins for finishing |
| • Font(s) | • Overall positioning |
The following is to be checked by the customer:
| | |
| --- | --- |
| • Spelling | • Quantity |
| • Date Stamps | • Material |
| • Overall Design | • Finishing |
| • Size | |
Once you approve the eproof(s) with OK to Print: you are stating that the eproof(s) are ready to print, and cannot be revised or reprinted without additional costs. Please be mindful that your turnaround (48 hour or 24 hour) does not start until we receive your approval for printing. BannerWorld.com is not responsible for any copy or design errors including: misspellings, date errors or color variation.
Cutoff time for approval for eproof(s) is 3:00 PM PST Monday through Friday. Failure to approve an eproof(s) on time will result in pushing production time back 1 business day, or rush fee's will be applied to your order. If expedited shipping is needed because of failure to approve a job on time, additional shipping fee's will be applied to your existing order.
Video
Teardrop Flag with X base Feather Flag with X base
Feather Flag with Spike base
View All
Close