Eco Friendly
Latex Printers
We work with the environment in mind. As a HP Ecosolutions Trained Printing Company, we constantly strive to improve our printing techniques in order to achieve the best quality print for large format materials. Let's work together and keep up with the latest in our Eco-Friendly printing technology. Latex printers are a reliable source for your banner and sign needs. They are efficient, low maintenance, and will help you achieve quality that everyone will notice. As a customer, you can expect to receive products with durability for over 3 years outdoors and 5 years indoors (with lamination: 5 years outdoors and 10 years indoors). Our headquarters is home to several durable Latex Printers. Some environmentally friendly facts about our prints and materials include the following:
· Water-based inks help for an odorless and eco-friendly work environment
· No air pollutants are released which helps reduce the environmental impact of printing
· Recyclable alternative to PVC products
· Fast production speed which makes for a quick turnaround
· Capable of printing vibrant and detailed high quality images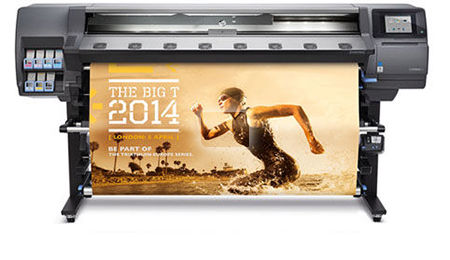 Together, our printers and media provide; durable odorless prints, sharp and vivid image quality, and versatile high productivity all while reducing the impact of printing on the environment. Make a big impression and Go Green while utilizing our latex Printers. Possible applications include fleet graphics, outdoor banners, light boxes, textiles, and window graphics.
Learn more about the HP Large-format Media take-back program: click here for pdf file